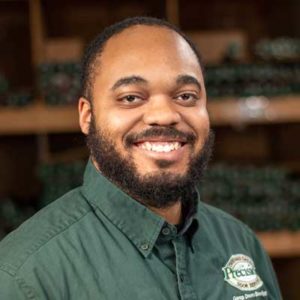 Terrance Smith
Installer | IDEA Certified
Hey I'm Terrance and I've worked in the garage door industry for 5 years as an installer. It's my job to ensure that your installation is done with pride and efficiency that represents the integrity of Precision Door Services! I enjoy spending my free time with my family, bowling, listening to music and working out. I'm very knowledgeable and you can depend on me to get the job done right. I look forward to working with you on your new project.
| | |
| --- | --- |
| Years with Precision: 4 | Background Check: Yes |
| Customers Served: 1,852 | Drug Screen: Yes |
| Installations: 1476 | |
Reviews
5/5/22 – Terrance did a great job with our new garage door. He showed up on time, was very friendly, and got the job done in less time than I expected. I'd definitely recommend Precision to friends and family. Thanks!
4/17/22 – The technician Terrance was prompt, professional and very informative. I felt sorry for him because the weather was horrible but he kept it moving having to install two garage doors. I would definitely recommend Precision Garage Door for any of your garage door needs.
3/16/22 – I am very very pleased with the work done by Terrance Smith. He did quality work and installation was was exceptional. The quality of the the product made by Precision Door is superb. I am very happy with my brew agsrsge door and opener! Thank you!!!
11/14/21 -Terrance was punctual and very professional. He single handedly installed my new garage door in under 4 hrs. breaking only for lunch. The installation was perfect and I couldn't be happier with the results. Terrance also gave thorough instructions for the operation of my new door opener which he also installed. No doubt, Terrance is an asset to your organization. I am completely satisfied with my new Precision Garage Door. Your employees made my day! Many Thanks!
10/4/21 – New garage door installed today , technician Terrance Smith was very knowledgeable and did an awesome job installing the door! Door looks great! Highly recommend Precision Garage Door Company!
8/16/2021 – Mr. Terrance Smith and his associate just left my house after installing our new garage door. Because we recently inherited a home, we have been dealing with service from a variety of companies, and this was by far the best experience.
7/4/21 – My experience with Precision Garage and Terrance Smith in particular was fantastic! He was professional, personable and completed the install in a very timely manner. Terrance is an exceptional representative of your company!
4/9/21 – Our technician Terrance Smith was very professional and on time for our appointment. I can tell customer service is very important to this company. Terrance answered all questions we had and left the area clean and neat. I would recommend Precision Door Service to anyone that is looking to replace or fix their garage door!!! Terrance did an Excellent job
4/8/2021 – Excellent, on-time service. Professional and personal service representative/technician- Ask for Terrance Smith! He patiently walked through operation and maintenance protocol.
4/4/21 – I had a great experience with Precision Garage Door. The salesman was friendly and knowledgeable and gave me an accurate quote. I had to have the entire door and opener replaced. The technician, Terrance, was also very friendly and did a great job. The fit and finish of everything is excellent and everything is set up to open and close tightly, but gently. The new door and opener and so much quieter than my old one.
Great job. 5 stars. AAA+. Thanks.
11/5/20 – From start to finish an A.1 job. Your installer Terrance Smith really knows his stuff. Very professional. Answered any questions that I had. Terrence was also very courteous and friendly. I would highly recommend Precision garage door to anyone that asked me about garage doors. Also your staff has been very professional. If I do move, and my new place needs new garage doors. Your company will be the only ones that I call.
6/18/20 – Everything from the quote to going over options was great! Terrance was excellent. Super impressed with how he worked and how he just kept this steady pace.. He was never rushing anything or sloppy just from the few min I watched him and or checked on things. He just went about it as if he had done it 100 times. Really impressed with the knowledge and the careful precise work Terrance did at our home. Anyone would be lucky to have Terrance Smith complete their take down and install of their new garage door! Thank you.