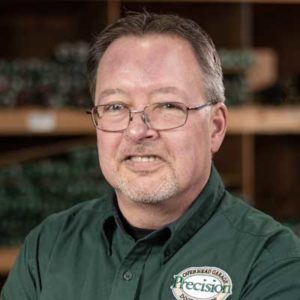 Mark Kucel
Technician | IDEA Certified
Mark grew up in Warren, MI and has resided in Sterling Heights for the last 30 years. Mark is married to his wonderful wife Darlene of 40y ears in 2022, the father of 5 and the proud grandpa to 13 children. Mark is an avid bowler (with a 300 game to his credit). When not working Mark is a home handyman tackling almost any job from remodeling to building his own garage. Before Precision Mark spent 36 years in retail automotive parts as a District Manager.
| | |
| --- | --- |
| Years with Precision: 6 | Background Check: Yes |
| Customers Served: 5,290 | Drug Screen: Yes |
| Installations: 2 | |
Reviews
8/22/23 – Mark Kucel did an outstanding job with repairing my garage door and installing a new opener. He was friendly and very knowledgeable. He took the time to thoroughly explain the operation of the new unit. I will definitely recommend him to others. Thank you.
8/17/23 – Mark K was outstanding. He was timely, professional and very clear on the issues and choices I had. His work was outstanding and I am fully satisfied with the installation of our new garage door opener.
7/5/2023 – Mark K did a great job. First, He was on time! He explained what was wrong, my options for the repair and the price for each option. He was friendly as well as professional. Upgraded my door. I need one more thing. I'll be asking for Mark
5/31/2023 – Technician Mark was the absolute!!! He was timely, efficient, professional, fair, honest, and pleasant!! The service was EXCELLENT!!!! The price was reasonable as well. The job didn't take all day either. The place to go when the garage door won't go. Truly done right!!!!
5/12/2023 – I've used Precision twice in the last couple years. Their technician Mark Kucel was here both times. He's the best. Caring, professional service. I highly recommend this company .
3/28/2023 – Mark was professional , explained the problem to my understanding , offered me a couple options to fit my budget. Very Happy with the work.
2/17/2023 – Garage door was opening after closing…I scheduled Precision Garage door from online reviews. Mark came out early than expected…good sign. He went over the garage door opener and the garage door itself for updates as needed due to wear and tear. Ultimately it was a broken wire in the garage door that was fixed and will eventually update the garage door and parts as needed. Mark was very efficient and did a very good job fixing the opening and closing of the garage door….Will use Precision door in the future.
1/11/2023 – So grateful for Precision's emergency services. Technician Mark Kucel arrived in a very timely manner. He diagnosed and thoroughly explained the attrition my 25 year old garage door was suffering beyond just a broken spring. He repaired and had my garage door operating like brand new in an hour and a half. Thanks so much Precision and especially Mark for the service you provide. Highly recommended this company.
12/9/22 – Mark did a great job repairing my garage door bearings, springs, and rollers in less than 2 hrs. Now, I don't have to break my back opening my garage.
11/9/22 – My technician Mark Kucel was wonderful he was patient kind and did the repairs and made it affordable for me. His customer service was fabulous and he was timely as well
10/20/22 – Great service. Text and email notifications regarding the appointment were helpful. The technician (Mark Kucel) was thorough, friendly, professional, timely, and efficient. Pricing was fair. Appreciated info from Mark regarding routine maintenance. Will definitely be using them from now on for routine maintenance and repairs in the future.
10/2/22 – Same day service was extremely convenient. Mark K was friendly and thoroughly explained what my ancient door needed beyond the immediate problem but didn't over-sell. Quick work and haven't had any issues since. I would definitely recommend.
8/30/22 – Mark Kucel did a thorough check of the door and pointed out problems. He explained the impact of rust on the rails which limited opening the door. He explained the pricing and completed the work he had described . I really appreciated the work Mark did. I would call this company in the future!!
12/2/21 – They were able to fix my garage door the same day I called! Mark K. was on time and did a complete check of my door and all springs, hinges, rollers and cables. Went over everything with me and completed all repairs in about 2 hours plus clean up. Very happy with workmanship.
11/15/21 – Our technician Mark Kucel was very professional and informative on the workings of our new garage door opener system. He was here promptly at 8:AM, and explained the steps necessary to complete the job. The work was done in a timely fashion, and he took the time to explain everything on the workings of the new system. We will strongly advise anyone to use Precision Garage Door for installation/repairs!
8/17/21 – We had my fathers garage door opener replaced. Our technician Mark Kucel did a very great job! Very professional! Explained everything we had done very well. Had no questions once he left! I would definitely refer them if you are looking to have any work done on your garage door!
7/14/21 – Mark, the technician, was very prompt, courteous and handled the issue quickly. I will continue to recommend them to anyone who has a need for their service.
5/1/21 – Very impressed with responsiveness, knowledge and professionalism. Our technician Mark was exceptional and left the job site extremely clean when finished. Definitely recommend and will hire again without hesitation.
5/1/21 – Very impressed with responsiveness, knowledge and professionalism. Our technician Mark was exceptional and left the job site extremely clean when finished. Definitely recommend and will hire again without hesitation.
3/24/21 – Precision Garage Door Company was very easy to work with and took care of my garage door issue the next day. The technician Mark Kucel was very professional, gave a very detailed explanation of what the issues were and how they would be fixed and then reviewed the service after he was done. I was very impressed with the service and his support. I will be calling Precision garage door again in the future.
12/11/20 – I called this morning to get an appointment for someone to take a look at our garage door track that was damaged last night. They had someone available to come today! What a relief because our door would not close all the way. Mark texted us when he was on his way, showed up in the time window he said he would be there. He was polite, friendly and professional. He fixed the track and it ended up being relatively inexpensive. We had Precision install this door 4 years ago and I won't ever call anyone else for a repair. They're fantastic!
12/8/20 – Awesome service. Mark was very friendly, and followed all the covid guidelines, which was awesome. He explained everything he was doing and showed me all the small things I could do to help prolong the life of our garage door.