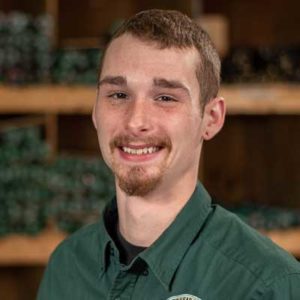 Jon Lyons
Installer | IDEA Certified
Experienced installed with three years behind me. I have a great family of 4, my little girl wife and dog whom I spend most of my free time with.
| | |
| --- | --- |
| Years with Precision: 4 | Background Check: Yes |
| Customers Served: 1,638 | Drug Screen: Yes |
| Installations: 1,310 | |
Reviews
12/7/22 – We moved into an old farm house with a garage and the openers failed after 3 months. Precision was the company with the best price and reviews so we went with them. Custom size doors were needed due to the size of the current structure. They were put up just recently and we are very happy with their quality. The young man that installed them was very professional and the quality of the installation is outstanding. I would highly recommend this company and the installer (J. Lyons) for anyone needing repair or replacement.
9/19/22 – Jon Lyons (technician) installed my new garage door and opener. My appointment was at Noon, he arrived early, was very professional. After the installation he walked me through how to use the keypad in the garage, the key pad on the outside of the garage and the My Q app. He cleaned up everything after the installation, my garage was just as clean when he left as it was when he arrived. Looking forward to having a new garage door that works. Highly recommend.
3/17/22 – I was very pleased with the promptness and efficiency of the worker. Justin Lyons was very courteous and informative. He explained everything so there was no problem understanding the opener.
11/12/21- Jon Lyons, our tech did an outstanding job from explaining everything from A to Z starting with if we had any questions before he started replacing our garage door. He started and finish in a timely manner. He was exceptionally nice. I will definitely recommend him to anyone I know that needs a garage door. Blessing be with him as he goes forward with his job.
10/27/21- Extremely happy with the communication and quality of work! Our Guy Jon was professional and courteous. Kept in contact and called ahead when he was on his way. Very happy with our 3 new garage doors!
5/7/21 – OUTSTANDING!
I called 1st thing in the morning and they had a tech out that afternoon. The tech (Ryan) was super informative, helpful and personable. I needed a new door. They had ONE at the warehouse, and they installed it for me the next day at 8am! The installer (Jon) was also very knowledgeable, helpful and personable. Highly recommend!
4/15/21 – The door was ready earlier than expected and Jon came out early in the morning and was done by 10:30 AM. The work was excellent and he cleaned up when he was done and explained how everything worked.
2/25/2021 – Jon did a superlative job, from his half-hour early start, through his explanation of how everything worked, how to program the new remotes, etc., followed by a very thorough clean-up. He has a wonderful attitude to match his skill and work ethic. People like Jon are a credit to Precision Garage Door and are why you have a customer for life.
9/12/20 – I am so happy that my friend recommended Precision Garage Door. The technician Jon Lyon was very professional, informative and pleasant. I will recommend the company to anyone who needs an emergency repair or install a new garage door.
7/22/20 – Jon L. with Precision Garage Door is a first class installer. Friendly, educated me re:an issue to replace the current chain due to twisting and recommend him highly.