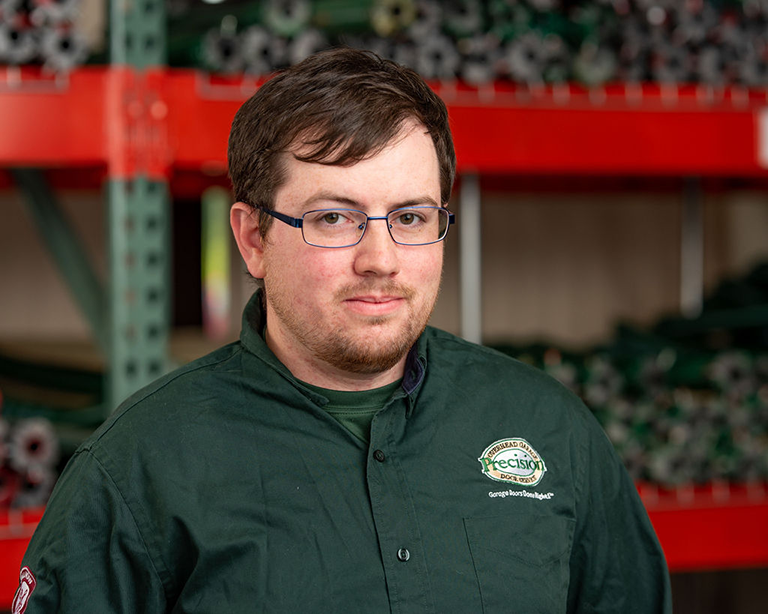 Dylan Smith-Gailey
Technician
Hello I'm Dylan and I started with the company at the beginning of 2021. As a garage door technician I've worked a wide variety of jobs in the short time with the company, and pride myself on the work I do. Outside of work I cook, go kayaking, and enjoy video games. I will do my best to ensure your door is in the absolute best condition.
| | |
| --- | --- |
| Years with Precision: 2 | Background Check: Yes |
| Customers Served: 1,403 | Drug Screen: Yes |
| Installations: 1 | |
Reviews
11/27/22 – The repairman Dylan Smith was a very nice and very helpful. Was here early before appointment time, called first to make sure it was a go. Thank you Dylan
10/8/22 – I can't begin to tell you how impressed we are with Precision Door and Dylan. So happy Dylan was our technician – he took the time to go over all our install/repair options and his professionalism was 2nd to none! What an amazing job he did from start to finish! He and Precision Door exceeded all expectations and we won't look for another company to service us ever again because of Dylan! Thank you so much for providing such a high level of service! We highly recommend you!!!
"7/8/22 – The handyman repair service that I had originally scheduled had canceled on me again so I decided to call Precision Garage Door (saw a TV commercial earlier that day). They quickly scheduled me for the first appointment window of the next day, for which I was very grateful.
I received a text message with a URL that allowed me to follow the repair technician, Mark, as he was on his way to my home. Less than 15 minutes later, he was at my driveway and ready to help me out. Incidentally, a picture was included as part of the text message so I was able to immediately recognize the technician.
The problem: The door was very noisy – rumbly. And the weather striping had aged and sometimes left a gap on one side.
The diagnosis: Mark identified the following problems: a frayed cable and the need for new rollers/lubricant. We had also discussed the rust on the bottom of the door and a very, very rough estimate for a replacement, to give me an idea of costs. But I digress – I did not intend to replace my garage door today.
The repair: After the estimate, Mark was able to quickly repair the door. He went over what was done (including something he saw that he thought would also be a problem) and suggested additional maintenance, which I appreciated. We tested the garage door a few times to ensure that everything functioned appropriately.
I appreciated Mark's expertise. He was able to quickly and confidently identify the issue, provide an accurate quote, and correctly make the repair. He also took the time to review the needed maintenance and left a can of spray to assist with it.
I am so glad that Precision Garage Door ended up repairing a number of issues that had been plaguing me for months. It is always great to find people that you can trust with your home. I will contact them again when I need to replace the garage door from rust."
7/13/22 – Dylan was very knowledgeable and helpful. He spent a lot of time educating me and my wife on our garage door replacement options and it is a company that clearly puts quality above all else.
3/23/22 – The technician, Dylan Smith-Gailey was outstanding, efficient and very courteous . The new weather stripping makes the door look like new and the roller alignment has it running smooth and quiet!!!
9/19/21 – Precision Garage Door was amazing! They came out quickly to repair a broken spring and cable; they arrived exactly when they said they would and had the repair completed in no time. Dylan provided excellent service, while recommending inexpensive short-term solutions to repair my garage door prior to having it replaced as planned next year. Dylan discussed their new door options and pricing, then provided me with a detailed quote for a new high-quality insulated garage door and opener. Dylan and Precision Garage Door have earned a customer for life!
9/17/21 – I would like to let you know just how satisfied I was with your technician Dylan Smith-Gailey. He is a very pleasant and respectful person that completed the job in a timely manner.
8/16/21 – Dylan was my technician and he was very knowledgeable and friendly, he explained everything and all my options.
8/16/21 – my service was excellent, Dylan Smith-Gailey was very friendly, knowledgeable and very helpful. Dylan was thorough in explaining what he was replacing, options that were available, and how much the installment would be and how long it would take. before replacing he tried to repair the old opener, he also took away all the old parts which I appreciated as well.
7/15/21 – Dylan was very professional and did an excellent job on our garage door thank you very much for sending out such a knowledgeable person.
6/14/21 – Dylan installed our garage door opener and did a fantastic job! He explained all the workings very well and even programmed the code into my car. Precision should be happy to have such a great employee. He went above and beyond. And, I can't believe how quiet our new opener is. So happy with the installation.
4/10/21 – Dylan Smith arrived on time. He was so polite, and thoroughly inspected both doors, was knowledgeable and completed the job on a timely manner. Great service man