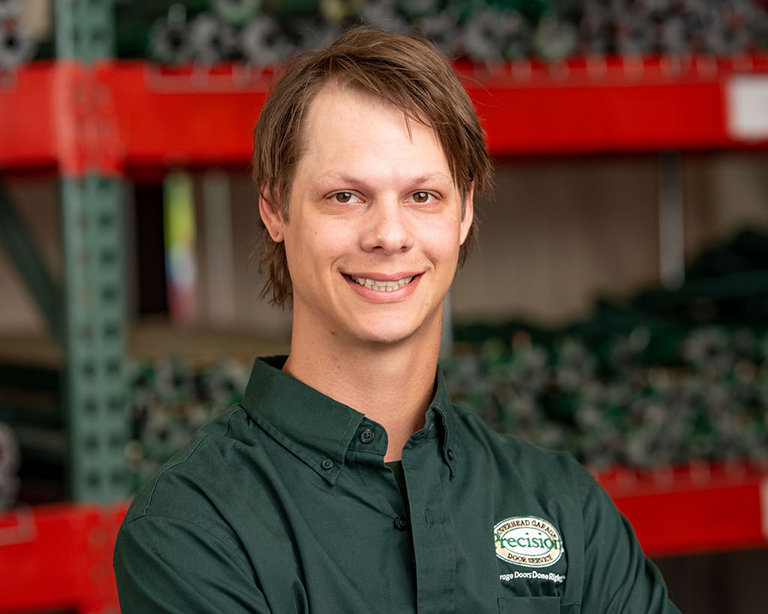 Daniel Duvall
Technician
Dan Duvall, garage door technician. When not troubleshooting doors, he enjoys hanging out with his dog and playing tournament paintball.
| | |
| --- | --- |
| Years with Precision: 2 | Background Check: Yes |
| Customers Served: 1,389 | Drug Screen: Yes |
| Installations: 6 | |
Reviews
11/28/22 – Daniel was excellent showed up on time, gave me all my options, and fixed the garage door super fast! You can't ask for anything more! Thank You
10/11/22 – I had the best experience with this company! Daniel Duvall installed a new operator for me. He was super professional and got the job done fast and right!
12/28/21 – We were having some problems with our garage door not opening correctly. When I called precision garage door, the receptionist was very pleasant and easy to talk with. She was able to secure us an appointment for the very next day. Daniel Duvall was our tech. He was prompt and very easy to work with. He assessed our problems quickly and was able to complete the work immediately. I was impressed with the end result as our garage door is on a not so straight 136 year old carriage house! The door is quiet and goes up and down perfectly! I would recommend precision garage door anytime! Thank you so much Daniel! Your work is much appreciated.
5/27/21 – We received an appointment in under 24 hours of our call for assistance. Precision Garage Door texts a photo of the Technician that will be coming to the house. Our Technician Dan Duvall was extremely professional, knowledgeable and explained all our options in detail. He replaced our spring and operator in under 2 hours and made sure we understood how to properly use everything he installed. We would highly recommend this company for any garage door repair needs!
4/22/21 – Precision technician, Daniel, arrived quickly, (same day I called), fixed the problem, checked over the door & system, and provided maintenance suggestions without pressure for purchase of things I didn't really need. I appreciate the text confirmations of arrival status, including a picture of the technician. I'm very pleased.
3/30/21 – Dan did a great job, called before he arrived, explained everything in detail and fixed the issue quickly. Highly recommend.
2/27/21 – Steve Wells and Daniel D. Are very knowledgeable about garage doors and all the components. Very friendly and explain everything in detail. Just had an estimate preformed, but will have them replace the existing door with a new one and all new hardware. Look forward to future service from Precision Doors! Thank You
2/27/21 – Super easy to book an appointment (very responsive to my online inquiry) and they were here the next day. Steve and Daniel did a great job in figuring out what was going on with the garage doors. Presented options to fix them, but no high-pressure sales pitch. Price was reasonable to have them come out and look at the doors and fix them. I would call again if I needed any repair or replacement.
2/24/21 – It was very easy to book an appointment on line. They responded quickly. Steve Wells and Daniel did a great job. They were polite and friendly. Cleaned up and explained everything. I would highly recommend them.