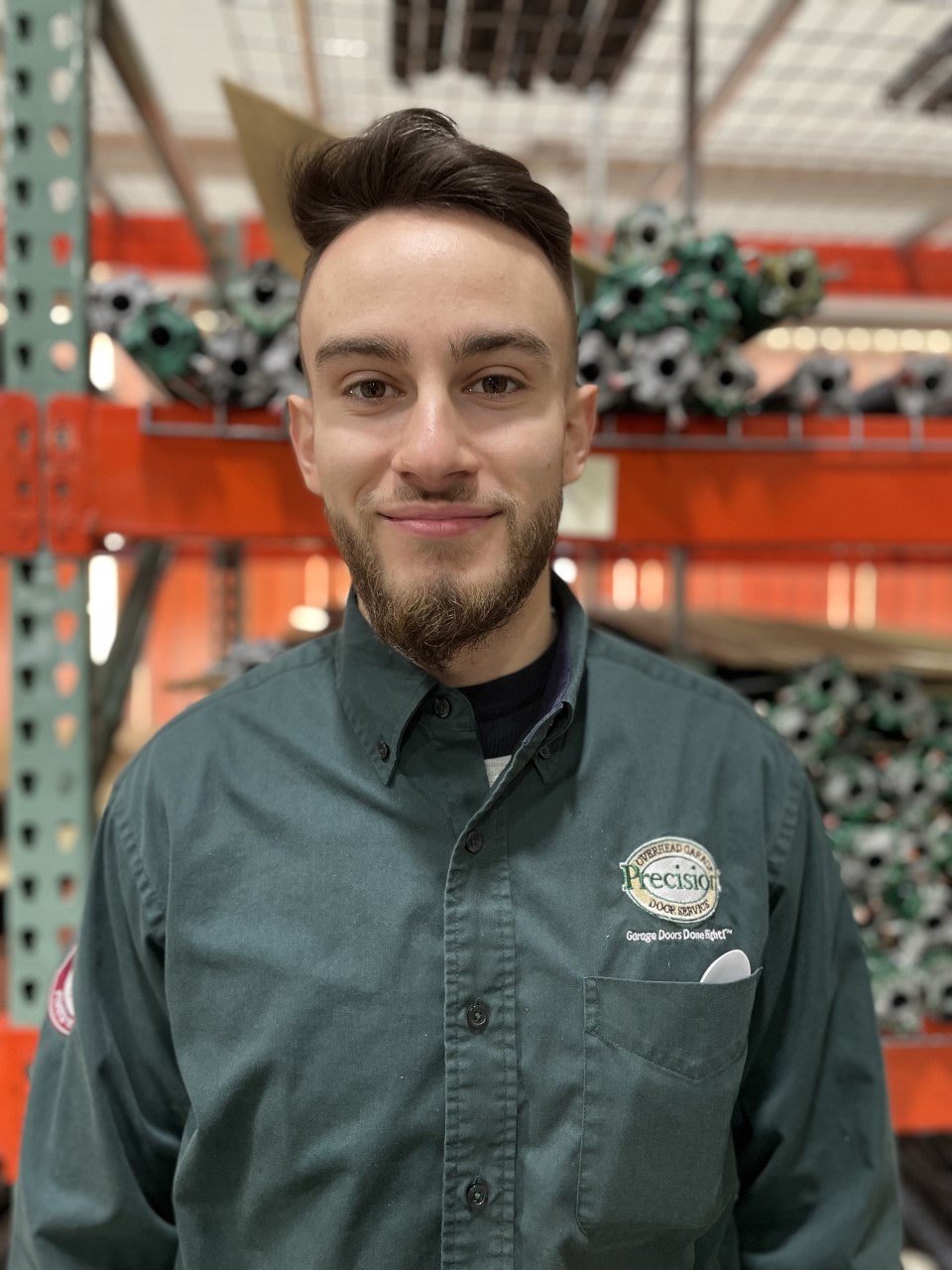 Dalton Rhodes
Technician
I pay high attention to detail and take time to make sure things are perfect. When I am not working on garage doors, I enjoy disc golfing with my friends. I also love working on my car.
Background Check: Yes
Drug Screen: Yes
Reviews
4/7/22 – Precision was fast and precise. They sent Dalton R who was very knowledgeable and compassionate. I will do future business with Precision thanks to Dalton R and recommend they send him to the site. Thank you Dalton for your hard work.
3/26/22 – 1. The request for service was handled promptly and scheduled conveniently for the following morning between 8 and 10 a.m. 2. Our tech, Dalton called promptly at 7:45 a.m. the next morning and indicated that he would be arriving at 8:15 a.m., which happened. 3. He went right to work surveying our problem, a broken spring and gave us a thorough cost for the repair service. We were given three service options for needed repairs and/or suggested replacement of worn parts. We choose the middle, service for repairs and replacement of recommended parts. 4. As I watched his entire effort, Dalton was very through with his repair effort and made sure that each action was completed in a precise and appropriate manner. He took extra time to insure a good repair. I am very satisfied with all that he did. He indicated that if any problem should arise after his service call, to please contact their office immediately for a quick return response. 5. This is the second time that we have used Precision for repair of one of our garage doors. In addition, our family has used Precision for the installation of a new garage door opener at their home. In each case, we have been very satisfied with their work performance on site and easy scheduling. Should the need for added repairs become necessary in the future, we will not hesitate to contact Precision.
3/12/22 – Technician Dalton Rhodes did the most thorough job of garage door repair I have ever had in this house – and I have been here 23 years. I was not previously aware of the fact that there are two different grades of torsion springs and that when springs are replaced the center and end bearings should be checked and replaced – our center bearing was shot. He also pointed out that the down force was not adjusted properly and both doors and recalibrated both.
Dalton is a dedicated hard working technician and should be rewarded! I wish more young folks had his work ethic.
1/13/22 – Technician Dalton Rhodes was efficient and knowledgeable. Very thorough too. He did a very thorough inspection of my garage door and gave me information on possible future problems. He quickly was able to make the repairs I needed for my initial repair request.