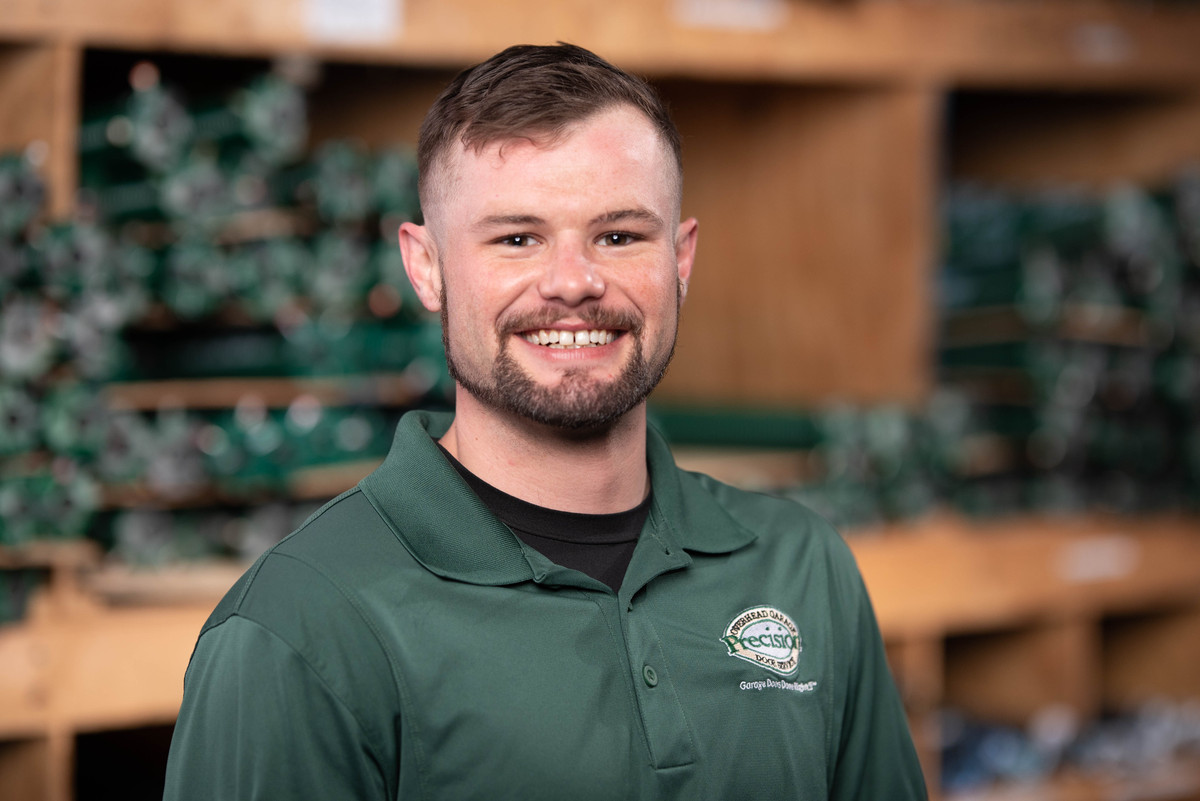 Caleb Schaf
Field Manager | IDEA Certified
Caleb Schaf has been a garage door technician for over 3 years. He is IDEA certified and very compassionate about his job. A Marine Corps veteran, his attention to detail and integrity helps him not only properly repair garage doors but also do the right thing for his customers. When not working, Caleb enjoys spending time with his daughter, riding four wheelers, fishing and riding his Harley. Always dependable and willing to help every customer to the best of his abilities.
| | |
| --- | --- |
| Years with Precision: 1 | Background Check: Yes |
| Customers Served: 1690 | Drug Screen: Yes |
| Installations: 1 | |
Reviews
2/21/22 – This was an amazing experience. Caleb is unbelievably professional, courteous, and we would absolutely call this company again
9/21/21 – Thank you very much for servicing my garage door. The Technician Caleb Schaf was fantastic, knowledgeable, personable, and efficient. He sure is a keeper. Your response to my call for help was very quick. I called at 9am and the technician was here fixing the door by 11:15. You were in constant communication by way of email letting me know ahead of time scheduling time and who my technician would be coming to my door. Thank you so very much for a job well done!
9/5/2021 – Outstanding service, product and workmanship. Caleb arrived on schedule and did outstanding work. I will recommend Precision Garage Door to everyone.
8/15/21 – Caleb was outstanding. He explained everything he was going to do prior to work starting. His work was exceptional and we are very pleased of our decision to use Precision Garage Door of Southeast Michigan. I would highly recommend this company and Caleb to my friends and family. Thank you Caleb!
8/1/21 – We had our garage door replaced by Precision. Caleb was very professional, very friendly and explained everything to us clearly in detail that helped us to make an informed decision. Once we made the decision the garage door was installed flawlessly and we are very happy about the final outcome. We love our new garage door. Thank you!
7/21/21- Caleb was great. Very professional and knowledgeable. He got the job done quickly and efficiently. I would recommend Precision to anyone and Caleb as well. He was great.
7/2/21 – Caleb was very knowledgeable, professional, and informative. He assessed the situation and advised me accordingly. He completely the task promptly and completely. He is a wonderful asset to Precision Door!
5/30/21 – Precision Doors is absolutely the best experience I've had with a garage door company. The company communicated with us impeccably and sent a knowledgeable abs courteous technician, Caleb, to our home. Caleb was wonderful. Explained the problem and promptly fixed it beyond satisfaction. Precision will be the only company I'll use from now on.
5/26/21 – Excellent service from technician Caleb. The door closing motor was not working properly. He had to troubleshoot several problems and provided me with clear explanations. He also carried out a major maintenance and replacement of the system components. He worked efficiently and reviewed everything with me at the end. I wold not hesitate to use Precision and Caleb again.
3/2/21 – Caleb Schaf from Precision Garage Door came to provide a proposal to replace our garage door and opener. This young man was on time, thorough, informative, and proud of the quality his company provides. Before meeting him, we were prepared to get multiple offers, but after his presentation, we were all in! His proposal was the first and only one we needed and are choosing to go with and we know it's going to be worth it! Thanks, Caleb
2/22/21 – The technician that come to my house was on time (on a Saturday!), efficient
installed a new door opener, explained all the issues with the present door, its opener (esp. the age of it1) and discussed all the pros and cons of which door to purchase.
I am extremely pleased with the opener,, new remotes and exterior manual opener!! I even have the ability to close my new door after installed to close it remotely on my phone! Love this product.
Caleb was very polite, knowledgeable and efficient and I have already discussed the work needs on my old Wooden garage door at my cottage to service in the spring.
Excellent company and recommend it very highly!!!
Toni Boudeman
2/6/21 – Caleb was an exceptional company representative! He was thorough in his inspection. He reviewed in detail the issues needing attention along with his recommendations and why. When the job was complete, Caleb returns my things in the garage exactly where they belonged. Should I need a service technician in the future, I will definitely request Caleb!!!!
2/6/21 – Caleb was exceptional. He was pleasant / courteous … explained clearly the issues needing attention, his recommendations and why. When the job was complete, Caleb put things back exactly where they belonged. Should I ever need service again, I will definitely ask for Caleb!!!
12/13/20 – Broke a spring Saturday afternoon Caleb showed up @8am Sunday did a full rebuild of the garage door. Caleb was extremely professional and courteous. He did an amazing job explaining exactly the 3 options for the door. We went with a full rebuild of the door because the components that this company makes are an incredible value!
Thanks again Caleb on a job extremely well done!!