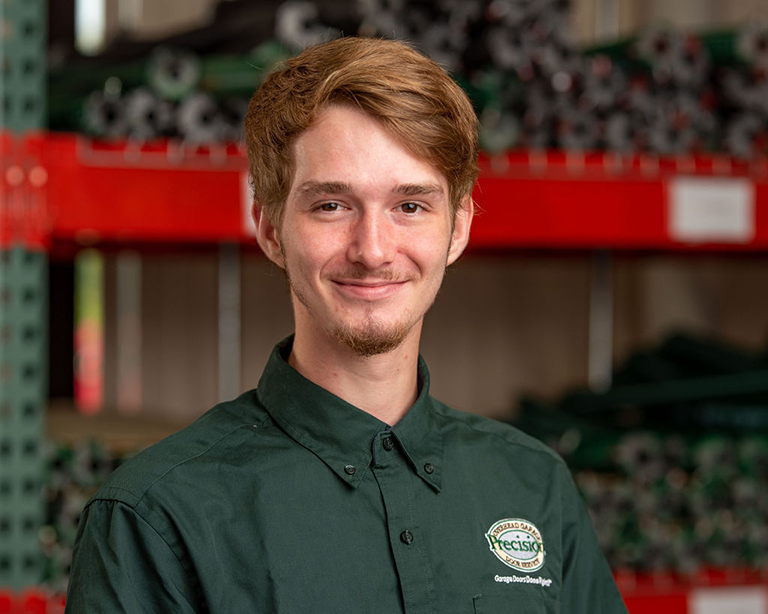 Justin Lyons
Technician
I pride myself on attention to detail, and puzzle solving. I've been mechanically inclined and fixing things since a young age. I enjoy building friendships with my customers, to provide a safe and trusting environment. In my free time I love to cook, and go on travels.
| | |
| --- | --- |
| Years with Precision: 1 | Background Check: Yes |
| Customers Served: 626 | Drug Screen: Yes |
| Installations: | |
Reviews
"
"4/10/2023 – Justin is a wonderful service tech who did outstanding work. Highly recommend
"
"3/29/2023 – Mr. Justin Lyons did a Great job aligning my Garage Door. Somehow the doors sensors were not not aligned and Justin Realigned it perfectly.. Thank You Justin for your kindness and knowledge.
"
"3/9/2023 – Justin Lyons did a great job analyzing the issue, explaining what happened and proposing alternative solutions. He was prompt, courteous and knowledgeable. Installation was excellent
"
"2/28/2023 – Service was excellent yesterday by Justin L. I don't know why everything goes bad at once (ice storm during which I had no elec for 4 days then garage door broke) but it's over with and I can't be more happy! A great job at a great price…who could ask for more!!!
"
"2/26/2023 – Justin Lyons was very efficient and answered all of my questions. He is a very professional technician and I would recommend that he be asked for if you should need their services
"
"2/26/2023 – Justin Lyons did a great job at my house getting the garage door to open with very little effort. Thanks Justin!
"
"2/7/2023 – First time for me to work with Precision Doors and I'm completely satisfied with their customer service as well as their thoroughness. Everything was explained and they really took their time to help me make the right selection that compliments my home. Justin my garage tech was very sweet and efficient, he answered any questions I had and the day of installation was clean and quick! Thanks for being a reliable and reputable company!!
"
"2/6/2023 – 24 hour call line to help set an appointment … service tech Justin called ahead and office texted confirmation with his picture. tech arrived on time, very personable, reviewed the problem and presented a range of options then based on my choice promptly completed repairs. very pleased, would not hesitate to use again and would request Justin.
"
"2/5/2023 – Precision was out to repair our door within 3 hours. Justin Lyons did a great job. He was very accommodating to our 4 legged supervisors.
"
"1/15/2023 – Great service. Honest, Courteous, Clear Concise Written Estimates, Good Review of Problems & Repairs. Justin Lyons- Great Technician
"
"1/14/2023 – You have a very bright , competent, and professional employee in Justin Lyons. He explained the why behind what repairs were needed. He also completed the work in a timely manner. Best of luck in all your career endeavors Justin!
"
"1/12/23 – So impressed. My husband was out of town and both of our cars were in the garage. I went to open the garage from the house control and the door went up 2 feet and then buckled! I was paralyzed. I called Precision and they had Justin out to me that afternoon who did a great job in not only repairing the door, but educating me on the best way to care for our doors / openers / gears / etc. in order to minimize damage in the future. I am so impressed with the professionalism and quick response of everyone and will recommend to friends! Thank you.
"
"12/15/22 – Justin Lyons extremely knowledgeable and informative and professional. Advice and recommendations well received and appreciated.
"
"11/27/22 – I am writing this favorable review for Justin Lyons on behalf of my mom because she is not tech savvy! Justin did an amazing job! He instantly repaired my garage door just when I thought I would have to replace everything! I wish I would have called sooner! My garage door kept popping up after closing but Justin noticed the alignment was off and corrected the problem!!! I am SUPER happy with him and the company!!! You now have a life long customer!!!!! THANKS SO MUCH JUSTIN!!!!
"
"10/23/22 – Technician Justin Lyons was prompt, professional, courteous, and friendly. He explained the problem, the cost of the repair, and performed all necessary repairs in a reasonable amount time. I was extremely satisfied with repair.
"
"10/16/22 – Great service. The technician, Justin Lyons, was very knowledgeable, polite and professional. Would definitely use this company again!
"
"10/7/22 – Justin Lyons's was my service repair man. He was very polite and courteous and on time. He really gave me a lesson on garage doors. Thanks for the knowledge and great service. I would gladly recommend precision door services to anyone. Who needs a job done right. One satisfied customer.
"
"10/2/22 – My service technician Justin L. was great, very prompt with a courtesy call prior to arrival. He was very friendly, professional, courteous and helpful. He did a great job to explain the issue at hand and the repair was very quick. He gave us several options to consider including all the pros and cons for future repairs and answered all our questions.
"
"9/30/22 – Very happy with the same day service call when my garage door opener stopped working. Justin Lyons was professional and courteous, walked me through the entire process for the replacement and after installation for opener setup, etc. Highly recommend!
"
"8/31/22 – Justin was absolutely awesome! Very efficient, polite and new exactly what he was doing. Awesome work would definitely call again.
"
"7/11/22 – Justin gave me great information about how to maintain our garage door, what to look for
if things need replacing. Very professional! Precision should be very proud of his work
ethic and his customer service. Thanks Justin!!"
"
"7/10/22 – Justin our precision technician was very professional, skilled and very personable. An asset to the company"
"
"6/5/22 – Justin Lyons installed our garage door opener. Very professional, patient and great to work with."
"6/5/22 – Justin Lyons installed our garage door opener. Very professional, patient and great to work with."
"6/1/22 – I've used Precision for years and they always provide fast, reliable service. My most recent experience was no different. We needed our garage door repaired right away and Precision was able to send out a technician within a few hours. Justin let us know when he would arrive at our home and he was very friendly, knowledgeable and personable. He walked us through our repair/door replacement options and made the process easy."
"5/20/22 – Excellent experience. Installation went smoothly. Technician Justin Lyons was outstanding. Very knowledgeable and took the time to review operations, safely etc. Appreciated his help in downloading product app and taking the time to show how to use all the features."
"5/2/22 – Justin came the same day I called when my garage door stopped opening. He was professional, explained everything in detail, & did an excellent job. I will highly recommend this company!"
"4/23/22 – My garage door would not close. I called Precision Door and the technician. Justin L. was out to my house within 5 hours. He was very knowledgeable and very professional. He fixed the issued and let me know what I can do in the future should this happen again. I am so glad I went with Precision Door!"
"3/31/22 – Very good experience with an excellent Technician (Justin). Replaced springs, drums,
rollers , sensors and cables. Justin really took his time and went out of his way to help with
a wiring issue. Highly recommend them!"
"3/21/22 –
Just wanted to send a note of thanks for the very prompt service call on my garage door today and
Mostly for the excellent customer service and professionalism that Justin Lyons displayed on the
Service call today. He discovered the true root of the problem and not just looking at it quickly and
Leaving. I truly appreciated his explaining what he did, how he fixed it and even advised me of the
Need to lubricate the rails and hinges with silicon.
I just wanted to share my highest appreciation for his customer service and professionalism today."
2/25/22 – Justin was out today to fix my garage door. He was very knoweledgable and found the problem right away. He was very polite and I would highly recommend him. Good job.
2/11/22 – Thank you so much for the outstanding service from Justin today he was very professional with his knowledge of what we needed to get everything working again and his work was top of the line we are very satisfied customers.