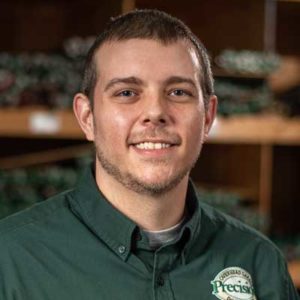 Jeff Parkes
Field Manager | IDEA Certified
Jeff is a veteran of the US Navy, having served as a Master-at-Arms. He is married with two children and loves camping and spending time with his family. When not at work, Jeff can be found working on DIY projects around the housing or working on cars as the family mechanic. Jeff enjoys time spent with church activities; and we're happy to have him on our team!
| | |
| --- | --- |
| Years with Precision: 4 | Background Check: Yes |
| Customers Served: 3,651 | Drug Screen: Yes |
| Installations: 6 | |
Reviews
2/3/2023 – Jeff the technician was outstanding. Quality of work was a 5 out of 5 and exceeded our expectations. Thank You Jeff
1/26/2023 – Amazing, I mean amazing service. Honest and basically gave me a lesson on door openers and maintenance of my door. Very happy. Jeff and his team did a great job. I will highly recommend Precision Garage door to my family and friends. Thanks Precision..
11/27/22 – I am writing this favorable review for Justin Lyons on behalf of my mom (Joan Kincannon) because she is not tech savvy! Justin did an amazing job! He instantly repaired my garage door just when I thought I would have to replace everything! I wish I would have called sooner! My garage door kept popping up after closing but Justin noticed the alignment was off and corrected the problem!!! I am SUPER happy with him and the company!!! You now have a life long customer!!!!! THANKS SO MUCH JUSTIN!!!!
11/26/22 – Outstanding service help me understand what needed to be repaired. Jeff did a excellent job. I will definitely recommend Precision Garage Door to friends and family. Thank you!
10/5/22 – My service technician Jeff arrived on time made my repair expertly and he was very professional answering all my questions. The service was rated AAA+. I highly recommend the Precision Garage Door Repair service!!!
9/24/22 – Jeff was great, very informative, very professional and very nice. He installed the garage door opener in no time.
8/31/22 – Prompt, professional and arrived at precise promised time. Jeff Parkes, Technician, very professional and informed me of each recommended step and improvement. I could not have been happier with the results.
5/16/22 – The Technician, Jeff, was extremely efficient and knowledgable and knew immeadiatley what the problem was when he looked at the door. He was extremely organized and he had all of the correct parts with him in his work truck and performed the work very quickly. He tested his work in front of me several times and had me repeat what he had shown me. All in all, a very good experience and well worth the money spent for the value that I received from his work. I will keep his information incase I need additional work performed on my garage door.
4/9/22 – Jeff is efficient and professional. Fast and convenient service. An unexpected repair but really great to have such a prompt response.
4/8/22 – The technician, Jeff Parkes was very knowledgeable, professional, and courteous. He replaced one broken spring and the cables on both sides of my 35 + year old garage door. Great job!
3/10/22 – My garage door spring broke and I called Precision Garage Door. They came out the same day and their technician, Jeff Parkes, quickly assessed the problem, he explained what needed to be done to repair the door, and he gave us an exact price for the repair. Jeff was very friendly and had the repair done quickly. I couldn't have had a better experience. Thanks so much.
2/19/22 – The technician was professional, on time, friendly and engaging. He, Jeff, made me feel I could trust what he was telling me and that he wasn't giving me a run-around. I kept their number so that I could call them to do an install for me later in the year.
1/24/22 – Just wanted to let you know that I was very satisfied with the service. Mr. Parkes was very prompt, professional and knowledgeable. I will use him again for any service needed on my garage door.
1/4/22 – Great experience – the technician's name was Jeff P. – very knowledgeable and honest. Precision came out the next day and repaired my broken springs on my garage door. In and out – quick and easy.
12/8/21 – Jeff P came out today to fix problems w/my garage door. He was absolutely great! He was timely, efficient, friendly, and took the time to explain everything to me!! I will highly recommend Jeff and this company to anyone w/ a garage door issue, I left an excellent review on yelp. Thank you very much!!!
12/8/21 – I had a problem w/my garage door opener, and needed to have a lock /access installed in case of power going out as I have no other door or window to get into my garage. Precision Garage Door technician Jeff P. came out and completed the job on time and w/out any difficulty. He also went out of his way to take the time to show me how everything worked and what to do if a problem arose. Jeff was timely, very professional, friendly and a pleasure to deal with. Thank you so much Jeff. I highly recommend this company for any garage door issue!!!
8/5/21 – We had a broken spring so I called around for repair. Precision was able to send someone out the same day! Jeff showed up earlier then anticipated. He was friendly and very knowledgeable. Would highly recommend! 🙂
8/3/21 -We had Precision out for garage door installation in 2013 and they did a wonderful job which is why I had them back out for the opener. Jeff Parkes was technician. He did a fantastic job, quick, friendly, professional, and everything got fixed in a little over an hour. Great work!
7/7/21 – This company is very organized, fast friendly and efficient.
3/14/21 – From the first minute when Jeff called to say he would be arriving in 20 minutes to the last minute when they were leaving, Jeff and Dillon (his trainee) were EVERYTHING I could have hoped for. They were polite, knowledgeable, accomodating, flexible, answered questions very thoroughly, and enjoyable to talk and listen to. THE BEST !!
Penny Persiani
2/7/21 – Excellent service was provided and Jeff went above my expectations to make sure my garage door was working properly. I would highly recommend Precision Door Service to everyone.
12/4/20 – Fabulous job! The guys (Jeff +1) came out, diagnosed the problem with my existing garage door opener, explained why I should consider a new opener, and installed the new opener within an hour. Very courteous and on time. Price was about right, too.
10/2/20 – Jeff was on time, very pleasant & professional. I went over the problem with him, he then inspected the garage door, opener & door hardware, found that I needed new springs & lower door guides. He replaced the needed parts, lubed the system, had it working very well. Jeff was terrific & did a great job. If I ever have any problems again this is the company I will call.
8/6/20 – The technician, Jeff Parkes, was courteous, arrived on time and went beyond what was expected. He not only fixed the problem I called about, but inspected the door opening mechanism, lubricated the moving parts, and replaced the springs which were warped. I appreciated his attention to detail and the fact that he saved me from future problems.